Похожие видео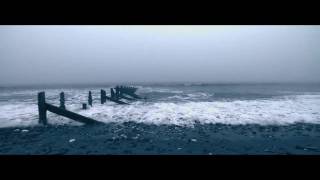 8 years ago
'Here' is a contemporary cinematic interpretation of Philip Larkin's poem of the same name, which depicts a journey east "from rich industrial shadows" through an initially bleak but increasingly fecund rural landscape and on to a large and bustling town, whose inhabitants (and their lives) are brought into sharp focus in uncompromising but affectionately honest terms before the journey continues eastwards beyond the town, to where "Ends the land suddenly" in an ethereal and unattainable "unfenced existence". The film has been nominated for awards at: RTS Awards 2010 Holmfirth Film Festival 2010 Hull Short Film Festival 2010 Cambridge Strawberry Shorts 2011 Director: Dave Lee Read: Sir Tom Courtenay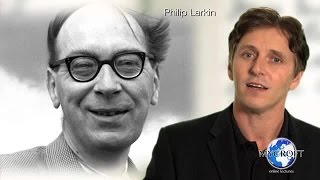 4 years ago
TOADS. Philip Larkin's stunningly truthful poem of a middle class man in a job he hates contemplating what would happen if he resigned to follow his dreams. A piece that touches a nerve in many readers, "Toads" uses the central metaphor of the "toad work" to describe an all too familiar feeling for all too many. Yet why is it that this man cannot leave his job? What is the other "toad" that squats in him and prevents him leaving? And why has Larkin allowed himself to become the man who can narrate this poem? Followed later by "Toads Revisited" these are two essential poems for understanding the world view of one of the most popular of twentieth century English poets. Please LIKE and SUBSCRIBE. COMMENTS also are gratefully received. Click http://drandrewbarker.com should you wish for extra notes and a transcript of the lecture and analyis above. Andrew Barker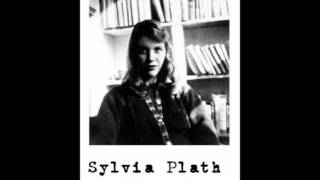 7 years ago
Sylvia Plath reading her poem "Black Rook in Rainy Weather" Black Rook in Rainy Weather On the stiff twig up there Hunches a wet black rook Arranging and rearranging its feathers in the rain. I do not expect a miracle Or an accident To set the sight on fire In my eye, not seek Any more in the desultory weather some design, But let spotted leaves fall as they fall, Without ceremony, or portent. Although, I admit, I desire, Occasionally, some backtalk From the mute sky, I can't honestly complain: A certain minor light may still Leap incandescent Out of the kitchen table or chair As if a celestial burning took Possession of the most obtuse objects now and then --- Thus hallowing an interval Otherwise inconsequent By bestowing largesse, honor, One might say love. At any rate, I now walk Wary (for it could happen Even in this dull, ruinous landscape); sceptical, Yet politic; ignorant Of whatever angel may choose to flare Suddenly at my elbow. I only know that a rook Ordering its black feathers can so shine As to seize my senses, haul My eyelids up, and grant A brief respite from fear Of total neutrality. With luck, Trekking stubborn through this season Of fatigue, I shall Patch together a content Of sorts. Miracles occur, If you care to call those spasmodic Tricks of radiance miracles. The wait's begun again, The long wait for the angel. For that rare, random descent.
1 year ago
Analysis of Ashton Kutcher for deception signals. Channel Purpose: To analyze the body language of public figures by looking for signals (nonverbal cues, evasiveness, contradictions, etc.) that suggest the person is being deceptive. Body language is not a science; it is subjective and the interpretations of body language on this channel are my opinions. If you would like to help support this channel, you may become a patron for as little as $1 a month through my Patreon page. https://www.patreon.com/detectingdeception "Copyright Disclaimer Under Section 107 of the Copyright Act 1976, allowance is made for "fair use" for purposes such as criticism, comment, news reporting, teaching, scholarship, and research. Fair use is a use permitted by copyright statute that might otherwise be infringing. Non-profit, educational or personal use tips the balance in favor of fair use."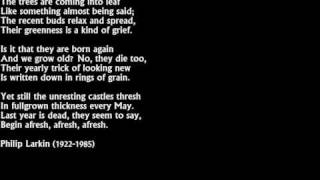 8 years ago
Philip Larkin reads his melancholy but observant and lyrical poem, written in 1967 but collected in 'High Windows' in 1974. I hope you enjoy the video, please feel free to post a comment. I do not own any rights to the recording.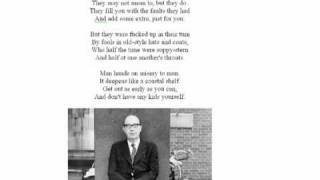 10 years ago
Philip Larkin reading his own poem 'This Be the Verse'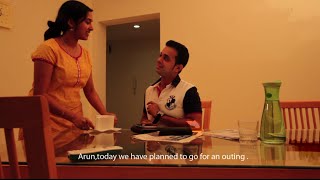 3 years ago
Malayalam Short film 2015 - TIRED (With English Subtitles) | സൂക്ഷിച്ചാൽ ദുഖികേണ്ടി വരില്ല .. Direction : Joji Philip Koshy l Story, Script & Screenplay : Sanju Philip l DOP & Art Director : Paul Joseph l Associate DOP & Stills : Deepa Girish l Editing : Jai Onattu l Design & Graphics : Paul Joseph l Assistant Director : Ajish Samuel l Sound Effects & BGM : Binoop Chacko l Production Controller & Technical Support : Girish Kumar l Costumes : Joji Philip Koshy. Cast : Sanju Philip, Binija Babu ,Sanoop Facebook: https://www.facebook.com/pages/Gooseberry-Creations/1540867436177823 Google Plus: https://plus.google.com/105550695102523565450/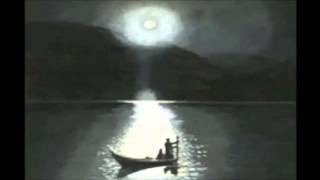 2 years ago
Reference the New English Literature exam. (P.28-29 of the Past and present poetry anthology.) I do not own copyright. Educational purposes only.
8 hours ago
Live Gurbani Kirtan from Golden Temple - Sri Harmandir Sahib, Amritsar (Morning)(Evening) Download Live Kirtan App -https://play.google.com/store/apps/details?id=com.app.damdamitaksal Morning 13.04-2018 ll Bhai Pinderpal Singh Ji ll Live katha Live Katha - Giani Pinderpal Singh Ji - 13.04.2018
3 years ago
Poetry Analysis 77: "The Second Coming" by William Butler Yeats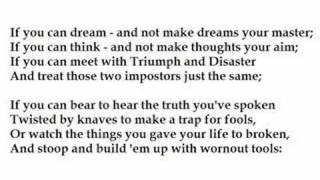 10 years ago
A reading of Kipling's popular poem of advice on how to be a man which should be taken with a pinch of salt. I recorded this poem again - try the video response.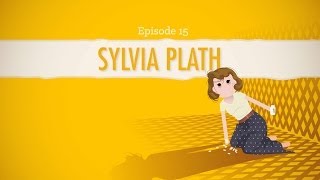 4 years ago
You can directly support Crash Course at https://www.patreon.com/crashcourse Subscribe for as little as $0 to keep up with everything we're doing. Free is nice, but if you can afford to pay a little every month, it really helps us to continue producing this content. In which John Green teaches you about the poetry of Sylvia Plath. When a lot of people think about Sylvia Plath, they think about her struggles with mental illness and her eventual suicide. Her actual work can get lost in the shuffle a bit, so this video really tries to focus on the poetry. You'll learn about Sylvia Plath's role as a feminist poet, and you'll also learn about her extraordinary ability to recreate the experiences of real life in beautiful and relatable way. Hear John read all of Sylvia Plath's "Lady Lazarus" here: https://www.youtube.com/watch?v=auP1bHAglU0&feature=youtu.be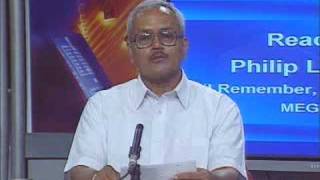 10 years ago
Reading Philip Larkins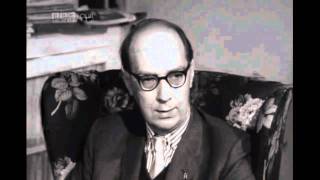 6 years ago
Audio from Philip Larkin :The Sunday Sessions. Footage from Down Cemetery Road, a 1964 BBC Documentary, showing Philip Larkin interviewed by John Betjeman.