Похожие видео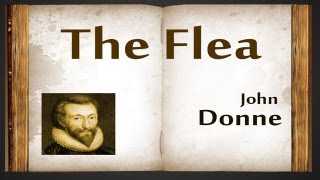 5 years ago
The Flea - A poem by John Donne. About the poem - 'The Flea' is a complex yet almost hilarious conversation between two lovers, where the young man uses his exceptionally persuasive skills to coax his lady love to sleep with him. Throughout the poem Donne uses a skilled combination of tone, suggestive words and double meaning, to present an argument which is so clever that it might actually lead to the speaker having his way. About the poet - John Donne (19 June 1572 -- 31 March 1631) was an English poet, satirist, lawyer. He is considered as the representative of the metaphysical poets. His works are noted for their strong, sensual style and include sonnets, love poetry, religious poems, Latin translations, epigrams, elegies, songs, satires and sermons. His poetry is noted for its vibrancy of language and inventiveness of metaphor, especially compared to that of his contemporaries. For more videos log onto http://www.youtube.com/pearlsofwisdom Also find us on Facebook at https://www.facebook.com/pearlsofwisdomchannel Subscribe & Stay Tuned - http://www.youtube.com/subscription_center?add_user=pearlsofwisdom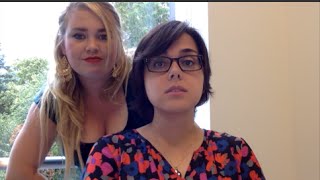 2 years ago
Need a quick breakdown of Donne's sexy, metaphysical poem? You've come to the right place!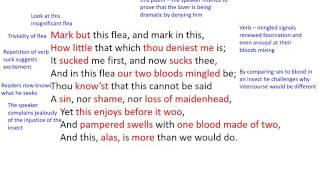 10 months ago
Analysis of the metaphysical poet Donne's poem in relation to the theme of love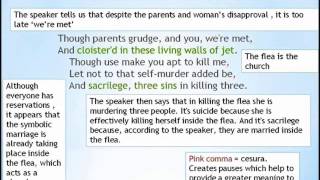 4 years ago
Much in the spirit of John Donne's "The Flea" I have taken two videos and co-mingled them into one video. The voice is from MichellesMovieMayhem• found at: http://www.youtube.com/watch?v=UdPvaVRj2J4 and the images come from poetryhelp101 found at http://www.youtube.com/watch?v=MeJQSuv-_iA. This video was created to help my students.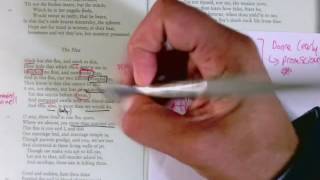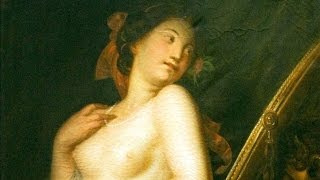 6 years ago
This is a poem about jealousy and fidelity. Let me offer a theory: that jealousy is differently motivated in men and women: that male jealousy is inherently different from female jealousy. Jealousy is in our DNA because serves an evolutionary purpose. A man was jealous because he feared that his woman might carry a child that was not his. A woman was jealous because she feared that the man would not stay and provide for her throughout pregnancy. Thus men are more fearful of a single infidelity; and women are more fearful of losing loyalty and affection. If this is true then men are less likely to forgive a single occasion in which there was sexual intercourse. And women are less likely to forgive men who show affection for other women, whether or not it went as far as sexual intercourse. Of course, this is not an inviolable rule or maybe not even true- I'm just thinking it over. One argument against it would be that prehistoric man did not connect the sex act with pregnancy. It's unlikely that animals make this connection, they are just following their instincts. But jealousy in both sexes would still work as an evolutionary mechanism: awareness isn't a necessity. The reason is that is the genes look after their own interests, not the interests of the individuals who bear them. Now I'm confused.... Jealousy in its extreme form is a most counter-productive emotion. Any person who is overtly jealous is, in effect, offering the other party a method of ending the relationship. Infidelity is the red button which, if pushed, burns the bridges. Jealousy only keeps the other party faithful while the relationship is going smoothly. As soon as there is a serious dispute in which the idea of a future together is abandoned - even temporarily - then all promises are worthless. The jealous partner's feelings become vulnerabilities. The way to end things once and for all, and to rid oneself forever of the overbearing jealous partner, is to be unfaithful. After that there's no going back. Relationships do depend on mutual agreements. All love-contracts are different but most couples in long-term relationships have a pact of exclusivity. They might say, "if you are ever unfaithful to me I shall leave you, and that will be the end." They might add, "I just couldn't bear the thought of you being with someone else". The other party might say, "Don't worry, I would never hurt you in that way. Nor would I want to spoil my experience of loving you". Most people are jealous to some extent, but it doesn't matter if jealousy and suspicion don't interfere with everyday life, The most extreme form of jealousy has an element of paranoia. I dislike words from psychology to describe human emotions, but paranoia does describe the concept very well. Paranoid jealousy does not need evidence. The jealous husband returning home at the end of the day might say, "The position that chair means my wife has been unfaithful to me". This sort of jealousy is far closer to hatred than to love. People with paranoid jealousy do not understand their beloved very well and they can be dangerous. "Jealousy is never satisfied with anything short of an omniscience that would detect the subtlest fold of the heart.". George Eliot Extreme jealousy is possibly the most distressing emotion and it is very hard to cure it. Maybe it stems from feelings of unworthiness instilled in childhood. If so then a loving and considerate partner can, over a long period of time, reassure and repair a jealous one. The jealous person might very well be a good, worthwhile person with just that one flaw in their nature. Only the power of your own love can help you decide whether it is worth persevering. There's some interesting information about John Donne here: http://www.openlettersmonthly.com/changeable-camelion/ The Mirror of the Devil painted by Antoine Wiertz (1806-1865), Jealousy was painted by Tom Roberts I can love both fair and brown, Her whom abundance melts, and her whom want betrays, Her who loves loneness best, and her who masks and plays, Her whom the country formed, and whom the town, Her who believes, and her who tries, Her who still weeps with spongy eyes, And her who is dry cork, and never cries; I can love her, and her, and you, and you, I can love any, so she be not true. Will no other vice content you? Will it not serve your turn to do as did your mothers? Or have you old vices spent, and now would find out others? Or doth a fear, that men are true, torment you? Oh we are not, be not you so; Let me, and do you, twenty know. Rob me, but bind me not, and let me go. Must I, who came to travel thorough you, Grow your fixed subject, because you are true?
2 years ago
A quick sketch of John Donne's life up until his writing of the Holy Sonnets, to give you a sense of the contradictions at the heart of his character.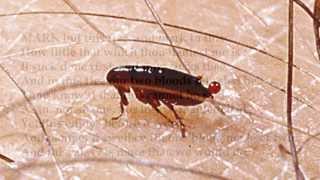 5 years ago
Some of the best poetry was written to seduce women, and this poem may be the best of all. The cadences are very stirring. In an argument would not be acceptable today, Donne compares the blood sucked by the flea with the blood lost when the girl yields to him and gives up her virginity. . I posted an old reading four years ago, but I think it's too declamatory. The tone should be more wheedling and intimate. http://www.youtube.com/watch?v=9tJ8IlPh_qA Paintings Lovers in 16th Century Costume by Achille Deveria http://en.wikipedia.org/wiki/Achille_Dev%C3%A9ria Detail from a painting by Ingres - a bather. MARK but this flea, and mark in this, How little that which thou deniest me is ; It suck'd me first, and now sucks thee, And in this flea our two bloods mingled be. Thou know'st that this cannot be said A sin, nor shame, nor loss of maidenhead ; Yet this enjoys before it woo, And pamper'd swells with one blood made of two; And this, alas ! is more than we would do. O stay, three lives in one flea spare, Where we almost, yea, more than married are. This flea is you and I, and this Our marriage bed, and marriage temple is. Though parents grudge, and you, we're met, And cloister'd in these living walls of jet. Though use make you apt to kill me, Let not to that self-murder added be, And sacrilege, three sins in killing three. Cruel and sudden, hast thou since Purpled thy nail in blood of innocence? Wherein could this flea guilty be, Except in that drop which it suck'd from thee? Yet thou triumph'st, and say'st that thou Find'st not thyself nor me the weaker now. 'Tis true ; then learn how false fears be ; Just so much honour, when thou yield'st to me, Will waste, as this flea's death took life from thee.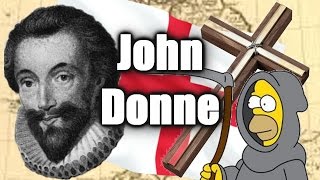 2 years ago
This is a video I made for my english glass where we were told to make a presentation to class about the poet John Donne. Hope you like it. This contains extracts from John Donne Biography Publisher A&E Television Networks http://www.biography.com/people/john-donne-9277090#profile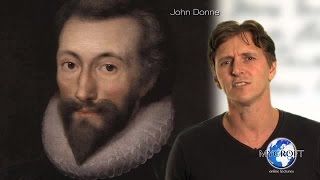 4 years ago
THE GOOD MORROW. A love poem from the morning after. Upon waking, the poet feels a new kind of love for the woman he is with. And this poem, "The Good Morrow", is what he tells her. But what was their relationship like? How has it changed? What will their love be like in the future? Dr. Andrew Barker's lecture on "The Good Morrow", looks at both the confidence and vulnerability of the one who speaks the beautiful lines that make up this declaration of heightened love. Note: Analysis of the line "Suckled on country pleasures childishly" contains profanity (34:40 -- 36:54). Andrew Barker Please LIKE and SUBSCRIBE. COMMENTS also are gratefully received. Click http://drandrewbarker.com should you wish for extra notes and a transcript of the lecture and analysis above.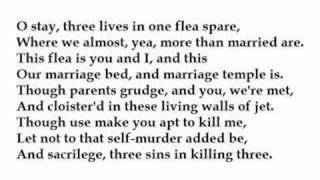 10 years ago
A reading of Donne's poem which compares the blood a flea takes from his lady friend with the blood of her virginity that he wishes to take.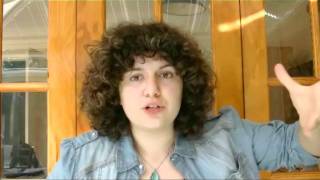 7 years ago
The poem "The Flea" By John Donne explained...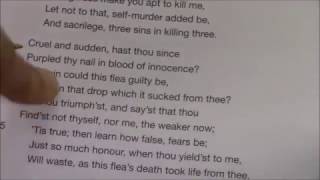 1 year ago
Analysis of The Flea by John Donne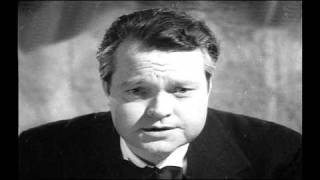 7 years ago
Heres a virtual movie of a recitation of "No man is an island" also known as " For Whom the Bell Tolls" by John Donne. Meditation no. 17 from "Devotions upon Emergent Occasions" (1624): "No man is an island, entire of itself; every man is a piece of the continent, a part of the main. If a clod be washed away by the sea, Europe is the less, as well as if a promontory were, as well as if a manor of thy friend's or of thine own were: any man's death diminishes me, because I am involved in mankind, and therefore never send to know for whom the bell tolls; it tolls for thee." John Donne 21 January 1572 -- 31 March 1631) was an English poet, priest and a major representative of the metaphysical poets of the period. His works are notable for their realistic and sensual style and include sonnets, love poetry, religious poems, Latin translations, epigrams, elegies, songs, satires and sermons. His poetry is noted for its vibrancy of language and inventiveness of metaphor, especially as compared to that of his contemporaries. John Donne's masculine, ingenious style is characterized by abrupt openings, paradoxes, dislocations, argumentative structure, and "conceits"--images which yoke things seemingly unlike. These features in combination with his frequent dramatic or everyday speech rhythms, his tense syntax, and his tough eloquence were both a reaction against the smoothness of conventional Elizabethan poetry and an adaptation into English of European baroque and mannerist techniques. His early career was marked by poetry that bore immense knowledge of British society and he met that knowledge with sharp criticism. Another important theme in Donne's poetry was the idea of true religion, which was something that he spent a lot of time considering and theorizing about. He wrote secular poems as well as erotic poems and love poems. Donne is particularly famous for his mastery of metaphysical conceits Devotions upon Emergent Occasions is a 1624 prose work by the English writer John Donne. It is a series of reflections that were written as Donne recovered from a serious illness, believed to be either typhus or relapsing fever. (Donne does not clearly identify the disease in his text.) He describes this as a "preternatural birth, in returning to life, from this sickness".[1] The work consists of twenty-three parts ('devotions') describing each stage of the sickness. Each part is further divided into a Meditation, an Expostulation, and a Prayer.[2] Meditation XVII is perhaps the best-known part of the work. It forms part of Devotion XVII (subtitled "Now, this bell tolling for another, says to me, thou must die."[3]), in which the patient prepares himself to die,[4]and contains the following passage: No man is an Iland, intire of it selfe; every man is a peece of the Continent, a part of the maine; if a Clod bee washed away by the Sea, Europe is the lesse, as well as if a Promontorie were, as well as if a Mannor of thy friends or of thine owne were; any mans death diminishes me, because I am involved in Mankinde; And therefore never send to know for whom the bell tolls; It tolls for thee. It is the origin of the phrase "No Man Is an Island". Kind Regards Jim Clark All rights are reserved on this video recording copyright Jim Clark 2011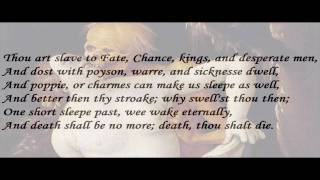 8 years ago
I hope to die peacefully in my sleep with a smile on my face, like my grandfather did, not terrified and screaming like his passengers. Last night, in bed, my wife told me she had bought a pair of gardening shears. I replied that we already had a pair of gardening shears. She explained that these shears were of such a wonderful design and of such beauty that I could not fail to be impressed when I saw them. I said that I didn't want to see them, that her description was enough together with the knowledge that there was such a wonderful pair of garden shears that gave her such pleasure: and henceforth I would bask in the glow of ownership without ever once seeing these shears; it would become for me a religious belief, cool and Zen. (I don't like gardening) When a neophyte asked the master "What is the meaning and purpose of life" , the master replied, "When I was in Hwan Hung Lo I had a robe made that weighed Seven Renmimbi." Now that leads me to explain to you what a woman means by "romantic." She usually means a gift or a gesture made with regard for her needs and desires. This is good stuff guys, so prick up your ears. So, before scattering rose petals, buying flowers or a large box of chocolates, consider first whether she really wants to spend the evening sweeping up the rose petals, whether she has shown any interest in flowers and, if so, which particular ones - and, if she is watching her figure, whether a box of chocolates is exactly what she doesn't want. Despite what you've heard, a frying pan can be a romantic gift. The circumstances would be that you remembered her saying last week that she needed a new frying pan. However it is not a good idea to gift wrap it. In fact it is not a good idea to say that it is a gift. What you say is, " I was passing that cook shop in the High Street, and remembered that you needed one of these..." It must be a superb frying pan, not one that fails as the-frying-pan-of-her-dreams. Frying pans are as romantic as garden shears. This is a very romantic gesture. It might even get you laid. When I ask my wife what was the most romantic thing I ever did , without hesitation she replied "Watson." It happened that one year for Christmas I gave my wife a little book called "How to Care for Your Persian Kitting". Excitedly she went downstairs expecting to find a Persian Kitting. Then I explained that this was about Mental Ownership. The book was to help her visualise what it would be like if I ever sanctioned ownership of a Persian Kitting. It was The Next Best Thing. I could see that the PLW (Plucky Little Woman) was discomfited, but she gulped and carried on bravely. My philosophy with regard to kittings was expressed in the words, No Way, No How. No furry vermin. No litter trays. No scratched furniture. I maintained this philosophy for a year. I still hold it inwardly, but I never mention that. I understand, being wise, that I am not the only person in the marriage and that my wishes must occasionally not prevail. Imagine, then, the PLW's surprise and delight when the following year I appeared with a real live chocolate Persian kitting whom I introduced as Watson. Watson turned out to be even worse than what I had resigned myself to: I had steeled myself for the experience of malodorous litter trays and the ruin of all things scratchable. Watson was educationally subnormal, even for an inbred kitting he hadn't got any grain of sense whatever. He couldn't grasp elementary concepts. He would make attempt after attempt to get into an armchair by leaping over the arm and failing time after time instead of walking around the front and jumping on to the seat cushion. He would interpose himself between me and whatever I was doing at the time. His favourite hobby was picking the keycaps off my keyboard one by one with his claws. The horror was appalling - but it was worth it. As a romantic gesture, Watson can't be beaten. Two monks were arguing about the temple flag waving in the wind. One said, "The flag moves." The other said, "The wind moves." They argued back and forth but could not agree. Hui-neng, the old patriarch, said: "Gentlemen! It is not the flag that moves. It is not the wind that moves. It is your mind that moves." Then one monk said to the other, "For idiotic remarks, that can't be beaten. He must be the top cat around here. Is he called Watson?" I only had to change one line of this famous story to correct its inherent error - did you notice which one? I'm sorry I screwed up the video format. You will forgive me when I tell you that I had switched to PAL to make a video for a bloke who had imported my Ferrari into Australia. One of my Ferraris. Now honesty forces me to tell you that there were only two of them. Anyhow, I forgot to switch back. The Dead Christ was by Gregorio Ernandez Death and the Maiden, 1518, was by Hans Baldung Grien